When I was in grad school I imagined myself working in special collections/archives or as a reference and instruction librarian in higher ed, maybe as an adult reference librarian at a public library. I never pictured myself fifteen feet in the air, searching for a single millimeter-thick congressional committee pamphlet among eighty of its friends.
Everyone who works in a library knows that space is always limited, whether for materials storage or patron use, particularly at academic libraries. I supervise the library offsite storage annex of a flagship state research university, which is one way of addressing item storage problems without simply reducing the number of items in a collection. In our case, offsite storage allows the seven libraries (main plus six branches) in the university system to keep a large quantity of older and lower-use material in environmental conditions that are better for long-term item preservation while reducing the footprint of the on-campus collections.
What I'm really saying is that I run a climate-controlled book warehouse. My parents like to tell people that I work in something like the ending shot of Raiders of the Lost Ark, but it's a bit more like the eponymous Warehouse 13 crossed with the Kamar-Taj library in Dr. Strange. The first thing many people mention when they walk in is the "book smell" but sadly I've gone nose-blind to it.
The annex is a retrofitted warehouse building with high-density library shelving installed. We use Harvard-style storage, which means that instead of being sorted by call number or any type of content criteria material is sorted by size into ten different sizes of cardboard tray (picture half of a shoebox and you get the idea) and fourteen to eighteen trays placed on a shelf. Each tray has its own barcode and location within the building, and individual items (be they books, scrolls, VHS, LaserDisc, or the skinny little congressional pamphlets I mentioned earlier) have their barcodes in the catalog matched to the tray location. Inventory control is very important since we currently have 1.7 million items housed at the annex and are spec'd to hold nearly 5 million: if anything gets lost, there is very little chance of it being found!
As you might imagine, it's also impossible to browse. Occasionally patrons want to come look for something, and I explain that it doesn't work that way. We do have reading rooms if a patron wants to look at many items at once for research purposes, but for safety reasons the building is a locked facility and prior arrangement must be made in order to visit. Honestly, we're in a warehouse park at the far edge of town so I'm impressed when people manage to find us. (Nearest landmarks: a grocery store and a gas station.)
To shelve trays above what can safely and reasonably be reached from the ground we use a specialized forklift with a shelved metal cart on the back. Both the shelf and the operator go up in the air while the battery compartment stays behind to act as a counterbalance. Wire guides in the floor help us lock in to a straight path when we go down the rows of stacks. I was tentative when I first learned to operate it, but now I cruise around with ease (and my backing and turning in my car has improved a lot, too!)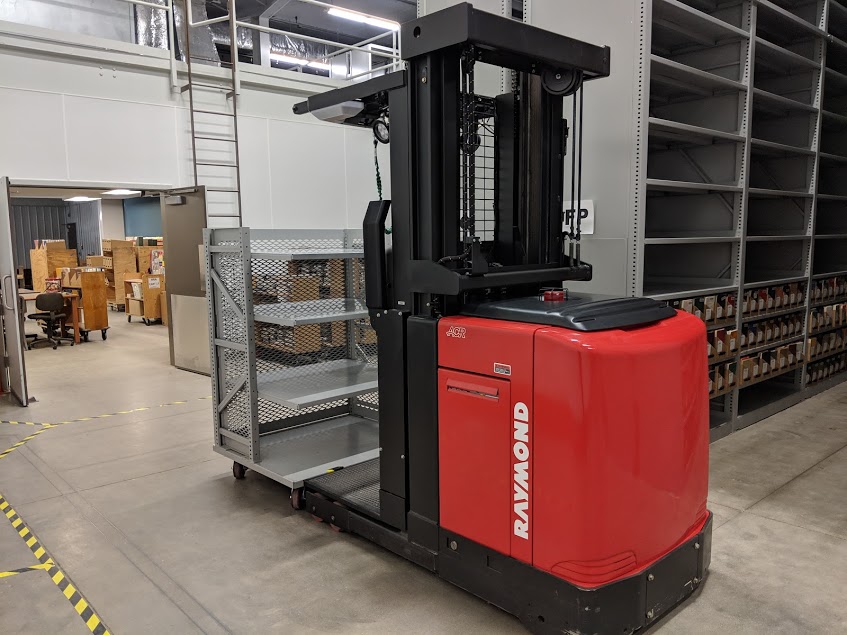 Despite the fact that the material out here is technically low-circulating, we do keep busy with a variety of tasks. This facility has only been open for almost four years after a long period of ad-hoc rented storage sites, and most of that time has been spent working to process and ingest material on to the shelves. Until the end of January, in addition to myself and one other full-time professional staff member we had a rotating team of temporary workers helping to clean, sort, and scan the material.
There are quite a few article scans for both interlibrary loan and document delivery every day; sometimes rush requests come through from the health sciences library for urgently needed medical articles. I'm not too squeamish but don't really like looking at retractions of the eyelid, so my colleague and I have agreed to swap as they don't enjoy the full-color dental texts. We also usually send out a bin or two of physical material going out to campus locations or ILL every day. For example, during one two-week period I've scanned materials including Watson and Crick's paper on DNA, Mendeleev's paper on atomic weights, and a lot of articles about dental implants. Previously, volume one of Nature from 1869 went out for class use in Special Collections! (It cost 4 pence per issue and had some great ads on the front page.)
Aside from ingestion and fulfillment activities, I also work on fixing and updating item location and policy information in the catalog, evaluate preservation needs, monitor pests (every month I send a selection of bugs caught in sticky traps to our conservators: usually huge spiders, a few crickets and a pill bug or two), and work on identifying items that may be good candidates for digitization. Theses and dissertations are a big part of this: there are copies at University Archives, but we house circulating copies. Once a thesis circulates, I attempt to contact the author for permission to include it in our institutional repository.
There have been some steep learning curves as I settled into the job, including ongoing issues with the cool storage area intended to house film and other more delicate material. Whenever it seems that the HVAC system has managed to stabilize the internal environment (50 F and 25% relative humidity, as opposed to the 65 F and 50% humidity main stacks), something goes wrong again. I know much more about both non-mechanized and mechanized climate control than when I began.
I've also really honed my communication skills. The annex is located five miles from campus, or about fifteen minutes' drive, and we usually get materials and mail delivered once a day. Figuring out who to talk to about what, and how to go about it have been very important, as well as making sure that I am as clear and straightforward as possible with my outgoing communication. I can't just pop over to talk to someone if a problem comes up, but I also don't want to send a deluge of messages and clog up anyone's inbox. We aren't even on the same phone network as the rest of campus, so instant messages or internal calls aren't an option either! (I'd like to get voicemail set up out here, someday…)
Currently, my library system is trying to have everyone work from home as much as possible due to COVID-19, so my colleague and I are working opposite half-day shifts at the annex, minimizing the areas we spend time in, and limiting building access beyond the normal limitations. We sanitize the high-touch surfaces of the lift when we're done using it, and wear masks as much as possible inside the building.
Honestly, I think my job and facility are interesting. I get to wear a lot of hats and work with people from many different departments both within the libraries and within the university, but ultimately everything comes down to ensuring the ongoing accessibility of resources. If I'm doing my job well, most patrons will never need to know that the offsite annex exists.
Does your library have offsite storage? Have you ever thought about where something retrieved from remote storage came from, and how it got to you?
Author Bio: Maggie Halterman-Dess (she/her/hers) is the Library Annex Coordinator for the University of Iowa Libraries and a member of the NMRT Communications Committee, as well as Endnotes. She tweets @maggie_pie_ and posts pictures of her corgi, baking endeavors, and weird stuff in storage on Instagram @maggie.pye