Perspectives, an interview series that will highlight the work of librarians in different fields and professional specializations. Our series will focus on the experiences of our participants, what they do, what they have learned, and offer advice to those interested in librarianship and various fields. To our readers, our committee hopes this column will highlight the valuable labor these individuals perform on an everyday basis. Our interviews will provide perspective on what labor in these fields entails and current issues that affect librarianship, employment, etc. On behalf of the Communications Committee, we hope you find this new column illuminating, informative, and inspiring!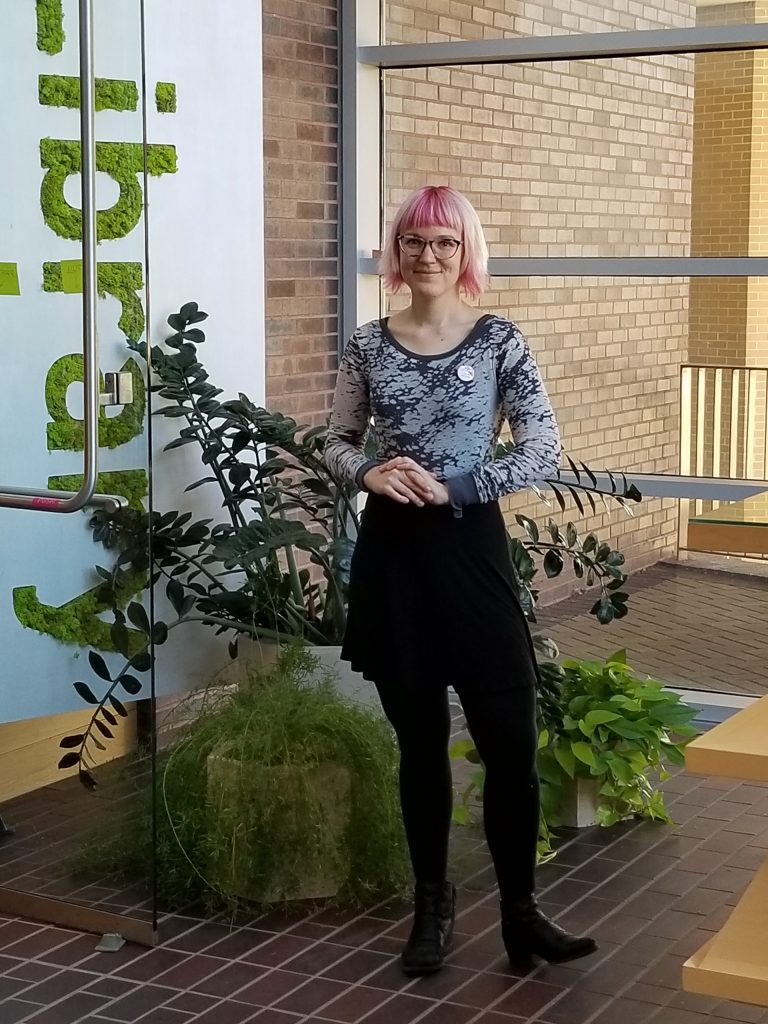 What aspects of your job do you enjoy the most?
I've switched back and forth between academic and public libraries throughout my career, and now that I work at a very small school (just 360 undergrads), I've had the chance to develop relationships with my patrons in a way that didn't often happen in the busy urban system I worked at before. I love working with our students, both as their manager in the library and as an educator and leader on campus.
Can you describe a memorable moment in your career?
I think the most memorable moment in my career was December 2, 2018, the day we cut the ribbon on the branch we renovated at the last public library system I worked for before going to Olin. My boss and I gave our hearts and souls to that project for six months. I learned so much during that time and was so proud of the result when we finally got there. Though I loved that job, it felt like a certain closure came after we reopened the library, and I began to start looking at other opportunities not long after.
What kinds of professional development do you do?
No conference will ever hold a candle to South by Southwest (SXSW) Interactive for me. I was really looking forward to going to Detroit for Allied Media Conference (AMC) for the first time this year, but it's shifted to an online event at the end of July that I think will still be a great experience. These aren't "traditional" library conferences. SXSW is a massive interdisciplinary event with an emphasis on tech, music, movies, and increasingly the press and public sector. AMC centers the voices of people of color, queer people, young people, and low-income communities that "explores the intersections of media and communications, art, technology, education, and social justice."
I typically go to the regional and state association conferences and am the chair of the Massachusetts Library Association's Library Information Technologies Section; though it has been a challenge to build membership in that group, I try to use my position on the MLA's executive board to affect change as in their recent responses to protecting library workers during the pandemic. This also makes it easier to get support for important initiatives in the state. Most recently, this included speaking out against LinkedIn's privacy-violating data collection of library patrons, support for legislation attempting to ban facial recognition technology in Massachusetts, and getting the executive board to endorse the Library Freedom Project's petition for safe library reopening demands. A group of fellow executive board members composed a statement that expresses our belief that black lives matter and that we recognize the role libraries have played in institutional systems of racism.
Is there one piece of advice you have received in your career thus far that stands out the most (that you carry with you in your work)?
There is so much advice I've received that as I'm thinking about it now feels like a lot of reinforcement of existing white supremacist structures in our field. For instance, networking has been very helpful to me in advancing my career, something that I've had the privilege of being able to do because I've had jobs and financial security to be able to jump on planes and go to conferences (see my previous answer). And the first thing I was going to write in response to this was "saying the quiet part out loud," something previous bosses have encouraged me to do instead of grumbling about things discontentedly under my breath–again, something that is much safer for me to do as a white hetero cis woman in a managerial position. So, I guess my answer to this is, think about what you're advantaging from in a way that others might not be able to before you just unthinkingly take advantage of it, and think about how you can take your advantages and use them as a way to uplift others who don't share your privilege.
What are some things you know now about your job/librarianship, that you wish you had known before entering the field?
I'm not sure how to answer this, really! There are so many things I didn't know before I started working, and so many things that now feel very missing from the MLIS curriculum – cultural humility, group facilitation (vs. group work), budgeting, strategic planning, hiring/personnel management, working with boards like Trustees and Friends groups, working as a department head within a larger structure like a municipality or an academic institution, you name it. There is so much more to librarianship than what is presented in our master's programs, but I hesitate to frame it as saying I wish I knew about it before I entered the field. With that in mind, I question the need for the MLIS credential itself.
What do you think some misconceptions about librarians/libraries/librarianship are?
I just finished co-writing a book for ALA Editions about change in libraries and one of the misconceptions I certainly had before I started talking to people and doing research for it was that library workers are particularly resistant to change. In working on the book, many people patiently explain to me that what is often coded as resistance is actually the justifiable anger that results from managerial miscommunication, whether that's not involving people who should be involved in decisions or not being transparent enough about the plans. One librarian said to me, "I resist changes that are done to me, for me, in spite of me. I am usually a reliable booster of change done with me, alongside me." This really helped me reject the "resistance" narrative and reframed my thinking and approach to introducing changes, especially big ones, to my colleagues.
What are some current professional obstacles in this field that upcoming professionals should know about?
The current moment has shown that libraries need to have a reckoning about two very important things. One is the conversation about "neutrality," which is going to require some serious introspection, learning, and listening from our colleagues who see the ongoing protests and unrest and say they "don't want to get involved in politics." I agree with Desmond Tutu's quote, often cited right now: "If you are neutral in situations of injustice, you have chosen the side of the oppressor." I believe it is imperative for libraries to refuse the side of the oppressor, to acknowledge that we have a history of doing so, and begin focusing on how we might foster an anti-racist culture of learning and mutual respect both within our profession and for the communities we serve.
The other is that there are deeply broken problems of inequality and labor in our libraries, and solidarity between workers is constantly undermined by two-plus union systems (if there even is a union at all) as well as managerial and political pressure to not band together or speak out in one's own best interests. The #ProtectLibraryWorkers movement has shown that many library leaders and municipal officials are under the impression that we need to get back to physical work as soon as possible, otherwise we cannot prove our value. I am thunderstruck by this obsession with productivity in a field I chose in part because of its anti-capitalist aspects, and how some of our colleagues seem to be taken in by the same pressure that is leading states to reopen their economies right now instead of being concerned about the health and safety impacts we still don't fully understand but so far have been devastating.
What professional advice would you give to graduate students who are about to enter this line of work?
Given the demographic makeup of our field, many of you are likely white or have other privileged identities. If that's you, it is your job to use your position and your voice to dismantle systems that have oppressed your colleagues and community members. If the professional organizations or other development opportunities you're engaging in aren't challenging and supporting you in this work, find other options or create your own. You don't have to continue to pay dues to organizations that aren't meeting your needs as a person who is trying to grow and find a community of practice that reflects urgent priorities in society. I urge you to find advocacy and development opportunities that focus on broad improvements and empowerment throughout society, not just ones that are aimed at libraries. As COVID-19 has shown us, libraries cannot be the one and only source in our cities and towns for internet access, as well as the many other social safety net roles we've accumulated over the years. Listen to and find partnerships with people in your communities who are already doing work to make them stronger. And for crying out loud, never host one of these "storytime with a cop" things EVER. AGAIN.