Perspectives, an interview series that will highlight the work of librarians in different fields and professional specializations. Our series will focus on the experiences of our participants, what they do, what they have learned, and offer advice to those interested in librarianship and various fields. To our readers, our committee hopes this column will highlight the valuable labor these individuals perform on an everyday basis. Our interviews will provide perspective on what labor in these fields entails and current issues that affect librarianship, employment, etc. On behalf of the Communications Committee, we hope you find this new column illuminating, informative, and inspiring!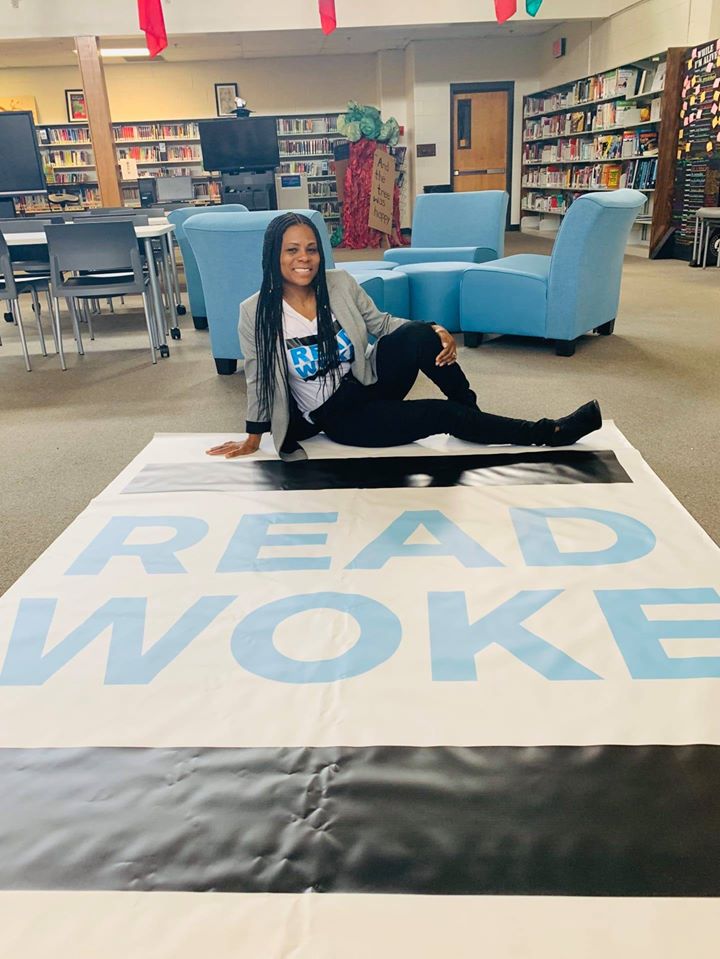 What aspects of your job do you enjoy the most?
Working with students is the most enjoyable aspect of my job. When I see a kid's face light up because they have discovered an amazing read, or when I see a young black girl beam with pride when she sees a black girl on the cover, or when I have a student who comes to the library for refuge, it truly makes me feel like what I do matters.
Can you describe a memorable moment in your career?
When I spoke to over 3,000 educators in Baltimore at the NCTE conference and encouraged them to collaborate with their school librarian. Tears were running down my face as I shared my journey with them and informed them about Read Woke. As I accepted my award for $10,000, I realized that I have a platform and I want to use it to advocate for libraries. I want everyone to realize the power of a certified school library and a properly staffed school library.
What kinds of professional development do you do?

We all learn by sharing! Although I have had the distinct privilege to present several times at the national level, I am most excited when I attend professional development that is offered with my district-level peers three times per school year. I have presented twice at district in-services and I presented at our county Digital Learning Conference in June. I have presented at GLMA's Summer Institute as well. I shared my passion for reading programs and the importance of literacy at the 2018 School Library Journal Leadership Summit and at the Florida Association of Media Educators. I also attended several sessions at these conferences where I was able to learn new strategies to implement in my school library program. Even though I feel my strength is implementing reading programs, I left each session with many ideas of how to impact more students and a reminder that we are all lifelong learners. I recognize that I can provide professional development without ever leaving my space and did just that in a webinar sponsored by Library Journal entitled "Hack It." I shared ways for the library media specialists to enhance their Instagram account to market their programs and our profession. I am active on social media and post regularly to advocate for our profession and promote my program. I have a combined total of over 2,000 followers. I follow many librarians on social media who have been Library Journal Movers & Shakers themselves, including @joycevalneza, @kiarareadthat and @gwynethjones. I also follow young adult authors including Nic Stone, Jason Reynolds, Ibi Zoboi, and Elizabeth Acevedo on social media. Their posts spark discussions, provide reading promotional materials, and offer giveaways of their novels.
Is there one piece of advice you have received in your career thus far that stands out the most (that you carry with you in your work)?
My former principal told me this in my interview, "Imagine every student is your child. Treat each child as if it is your biological child". I have carried this with me for many years. When I would have stressful days in the classroom, I would remember his words. It made me reanalyze situations and have compassion for the students. It also inspired me to provide rigor while nurturing my students.
What are some things you know now about your job/librarianship, that you wish you had known before entering the field?
I wish I had known it was an option. No one ever talks about library jobs. They are also talking about teacher positions. I did not even think of it as a possibility when I was searching for majors.
What do you think some misconceptions about librarians/libraries/librarianship are?
People think we only check out books. They are wrong. Librarians do so much more in a supported environment. Librarians are leaders! We have the potential to have a huge impact if we are given a seat at the table. We are teachers, counselors, instructional coaches, etc.
What are some current professional obstacles in this field that upcoming professionals should know about?
The lack of funding for libraries, libraries closing, misuse of the library
Libraries need to be properly staffed with a certified librarian.
What professional advice would you give to graduate students who are about to enter this line of work?
Join a PLN! Social media has helped me in so many ways. I have connected with authors, amazing librarians, and educators that have helped me hone my skills. Being a singleton in the school, it is hard to find others who share your experience. So, it is imperative that we connect with others who can relate and help us improve our craft. Also, my county has an outstanding media services department that supports us by providing authentic and intentional professional development.