by Maggie Halterman-Dess
Did you know that the last week of April is Preservation Week? Sponsored by the American Library Association's Core subdivision, this annual event is an opportunity to bring awareness support needed to maintain collections long-term, whether family photographs and records or the wide variety of formats held by libraries, archives, museums, and historical societies.
This year's theme is "Preservation in the Face of Climate Change," and the honorary chair is climate and environmental justice advocate Elizabeth Yeampierre, executive director of UPROSE, a Latinx community organization based in Brooklyn.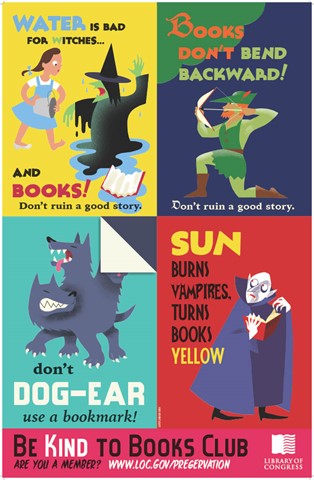 https://www.loc.gov/preservation/resources/educational/bookmarks/BKBCposters/index.html
Want to learn more? These free resources are either part of Preservation Week 2022 or will help you get started on becoming an informed preservation advocate!
How to Implement Sustainability in your Facility 4/26 2:00-3:00 PM Eastern
Digital Preservation's Impact on the Environment 4/28 2:00-3:00 PM Eastern
Library of Congress Preservation Week Events
ALA CORE Interest Group Week Digital Conversion IG Recording
ALA CORE Interest Group Week Promoting Preservation IG Recording
Northeast Document Conservation Center
Library of Congress Preservation Directorate
Library of Congress Connecting to Collections Care Series (Includes resources for small and medium-sized institutions)